We believe that beautiful objects and textiles can elevate our daily rituals, more so those which are produced by happy, talented, and respected artisans. We have been lucky enough to work amongst some of the finest of them who have created the collections that have formed the brand into what it is today. We are thrilled to present our collection *RETRO*SPECT* to you, a review and reflection of the past ten years of ecru, which includes some of our favorite things including a curated collection of ten pieces that we feel best represent the diversity of materials and techniques of which we have explored since our establishment.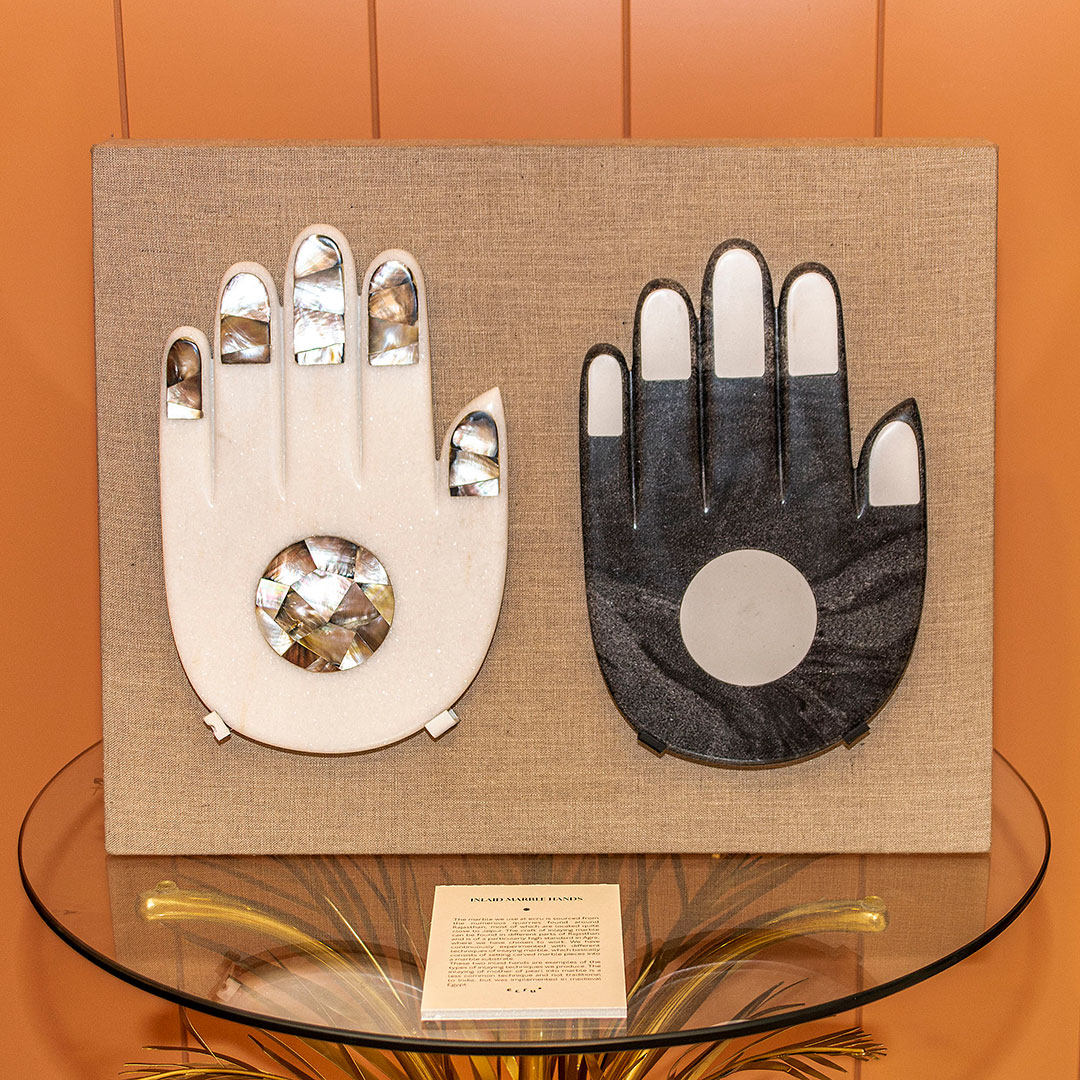 The marble we use at ecru is sourced from the numerous quarries found around Rajasthan, most of which are located quite close to Jaipur. The craft of inlaying marble can be found in different parts of Rajasthan and is of a particularly high standard in Agra, where we have chosen to work. We have continuously experimented with different techniques of inlaying marble, which basically consists of setting carved marble pieces into a marble substrate.
These two inlaid hands are examples of the types of inlaying techniques we produce. The inlaying of mother of pearl into marble is a less common technique and not traditional to India but was implemented in medieval Egypt.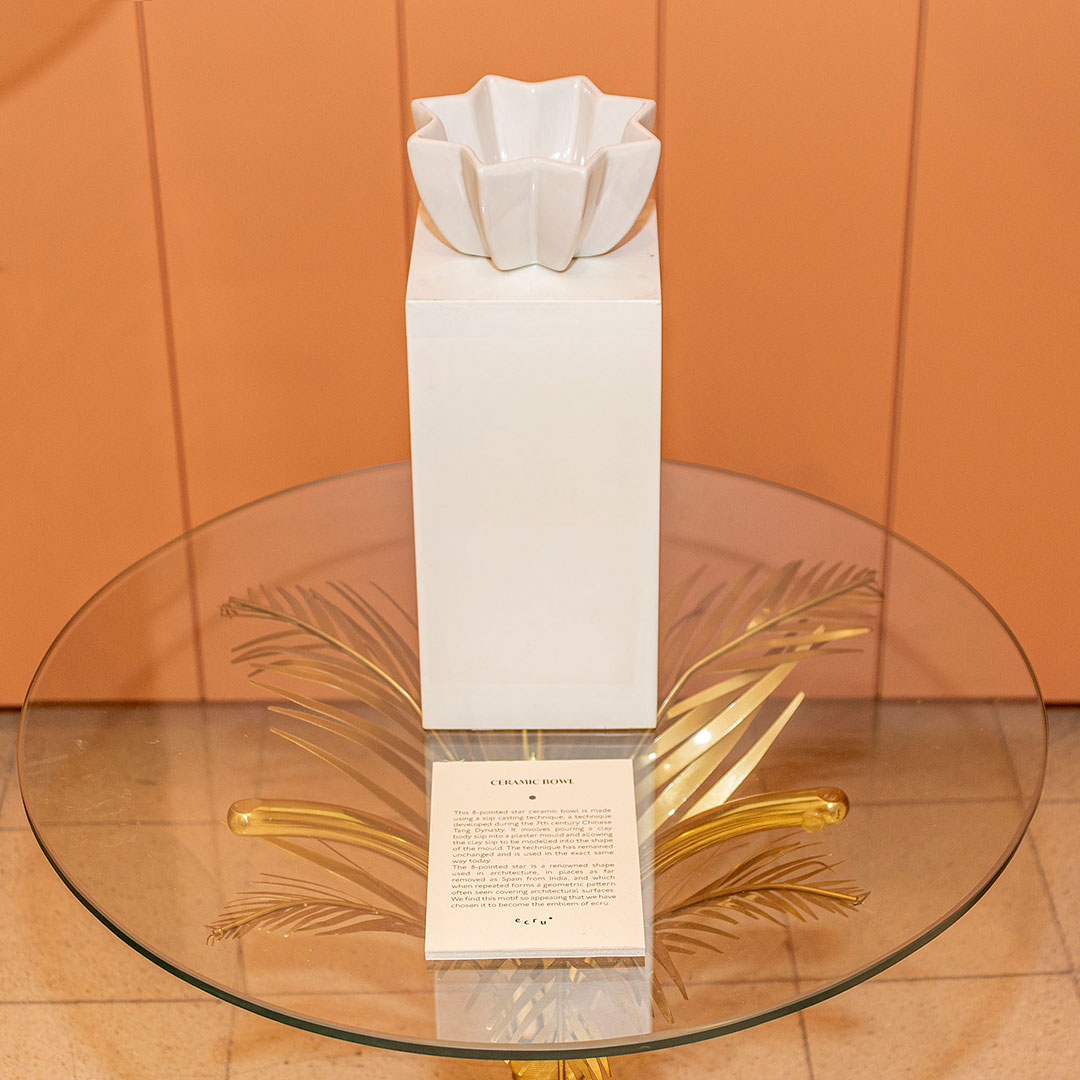 This 8-pointed star ceramic bowl is made using a slip casting technique; a technique developed during the 7th-century Chinese Tang Dynasty. It involves pouring a clay body slip into a plaster mold and allowing the clay slip to be modeled into the shape of the mold. The technique has remained unchanged and is used in the exact same way today.
The 8-pointed star is a renowned shape used in architecture, in places as far removed as Spain from India, and which when repeated forms a geometric pattern often seen covering architectural surfaces. We find this motif so appealing that we have chosen it to become the emblem of ecru.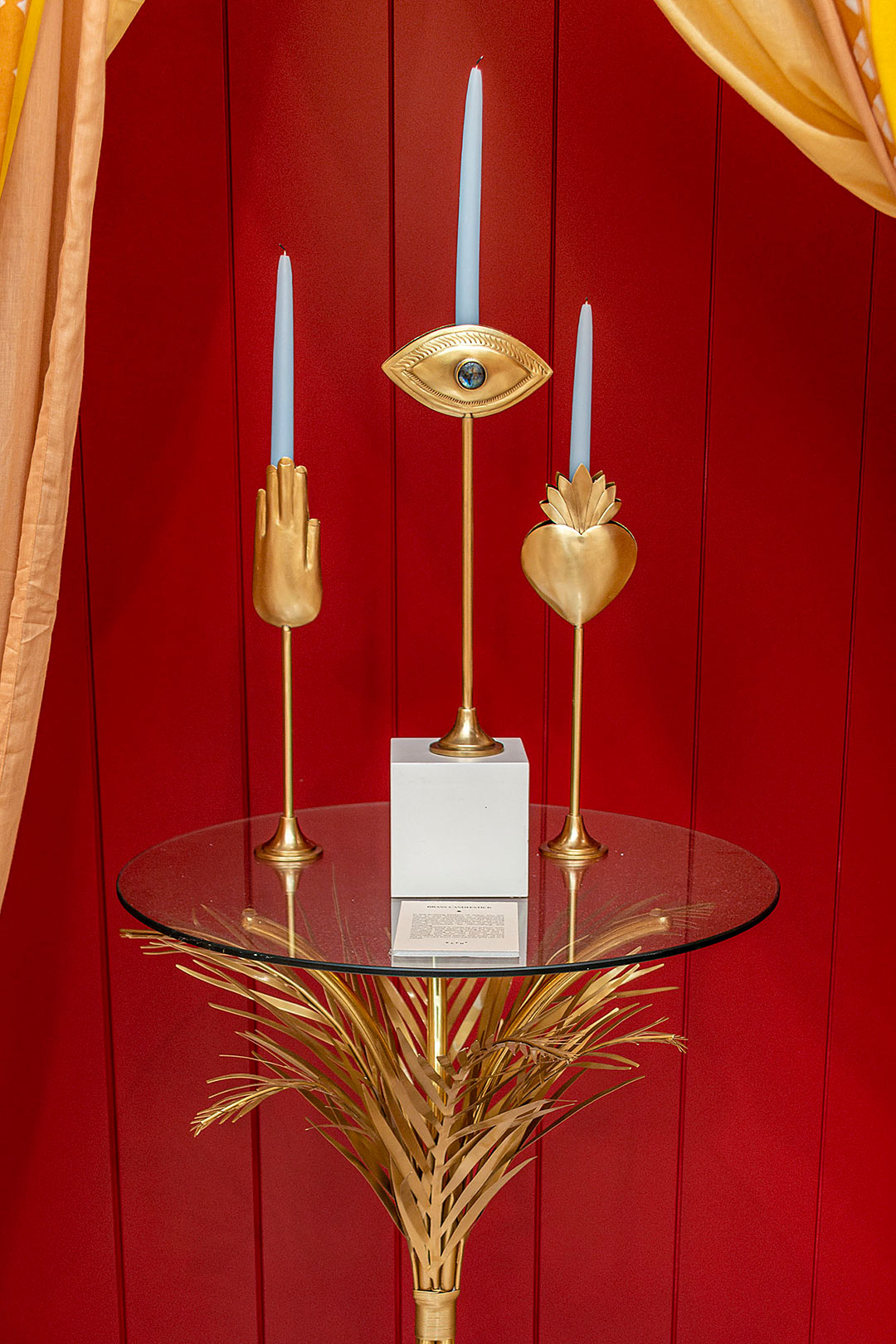 In the bustling bazaars of Jaipur, you will find an area allocated to metalworkers whose actual workshops have existed since the creation of the bazaar in 1727. Strolling through the narrow streets that lead up to their quarter one can hear the familiar sounds produced by hammering and soldering.
This candlestick is made by an artisan with whom we have been working for the last ten years. The detailing around the eye is modelled using a small hammer and a stamping tool that has been especially developed for the piece, the pupil of the eye is carved from labradorite and set in a collet.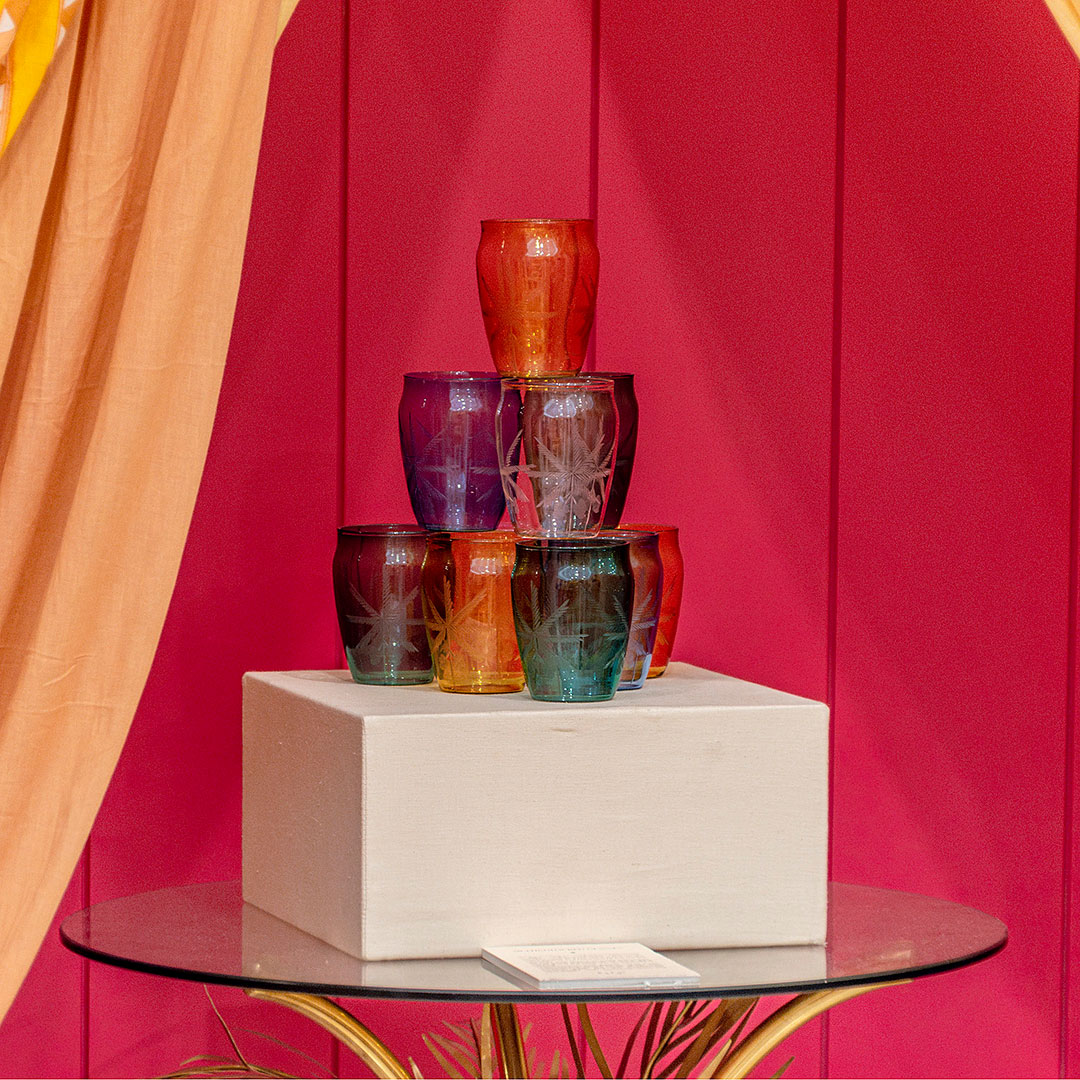 Glass workshops in India are notably found in Agra, where, craftsmen historically worked on creating chandeliers and mirror mosaics used in inlay work found in the many palaces and forts spread around the country.
We work with several of these workshops, one of which is known for its skill in glass blowing and the other for its expertise in etching.
These multicolored glasses result from craftsmanship produced by these two workshops, they are made of recycled colored glass and are meticulously hand-etched with decorative stars and palm trees.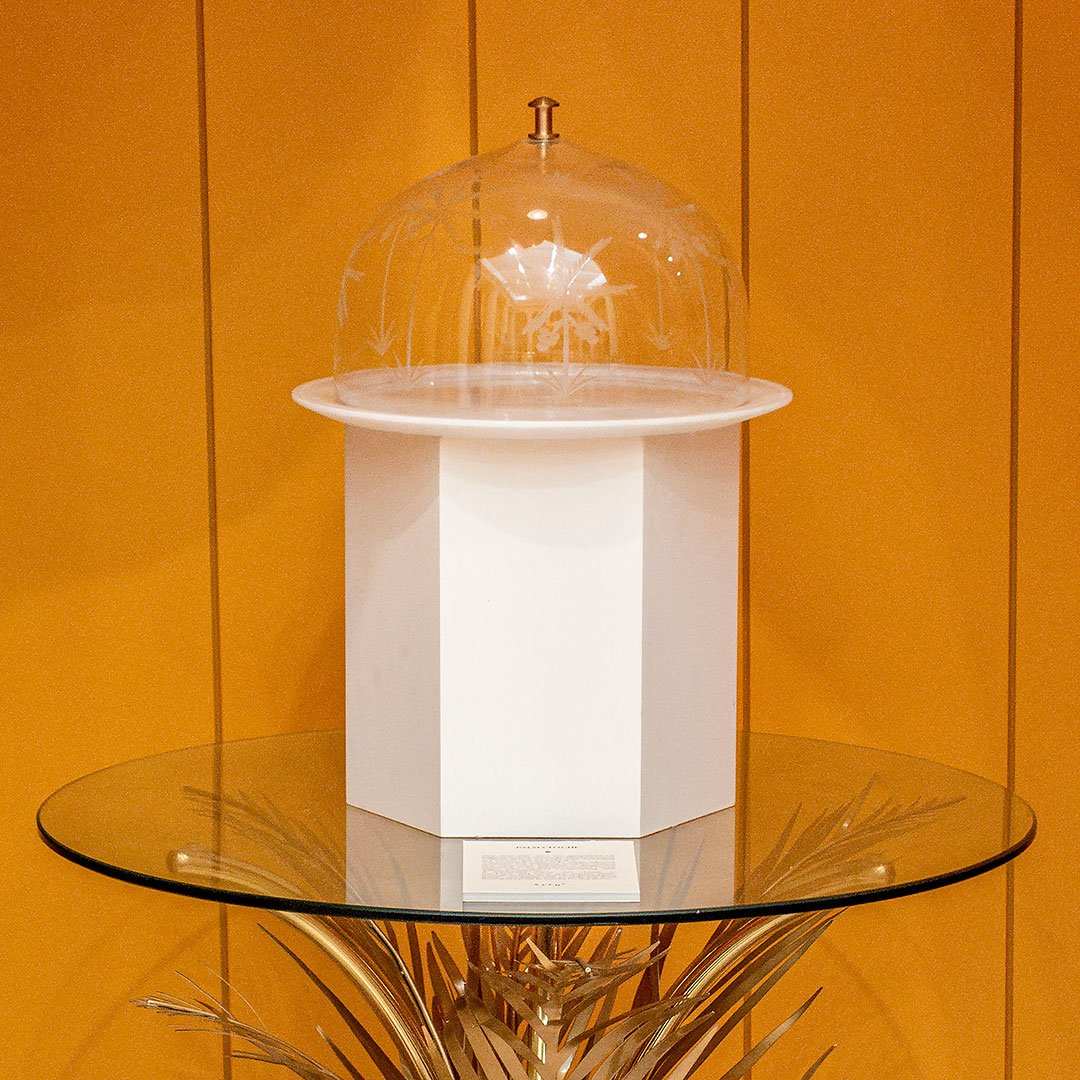 Very soon after ecru was established we began to explore and merge different types of material. At first, it proved quite challenging but we soon got the hang of it.
The process allowed us to merge different materials and therefore produce objects that were more elaborate in design and technique, for example, the food cloche which also required collaborating with different craftsmen.
A specialized artisan was chosen to hand spin and carve the marble plate, another to produce the hand-etched glass dome, and finally, one to craft the knob finial that serves as handle for the dome.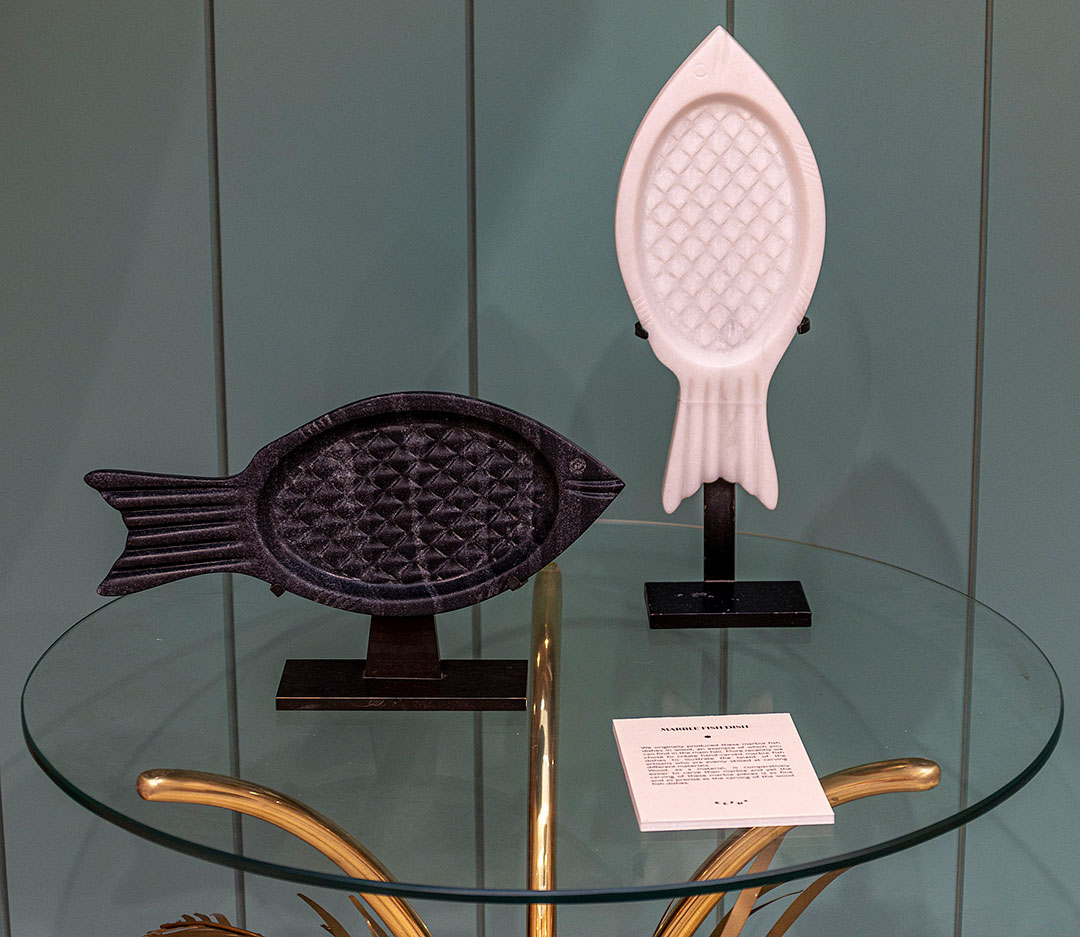 We originally produced these marble fish dishes in wood, an example of which you can find in the main hall. More recently we chose to create hand-carved marble fish dishes to illustrate the talent of the artisans who are evenly skilled at carving different materials.
Wood, as a material, is comparatively easier to carve than marble and yet the carving of these marble pieces is as fine and as precise as the carving of the wood fish dishes.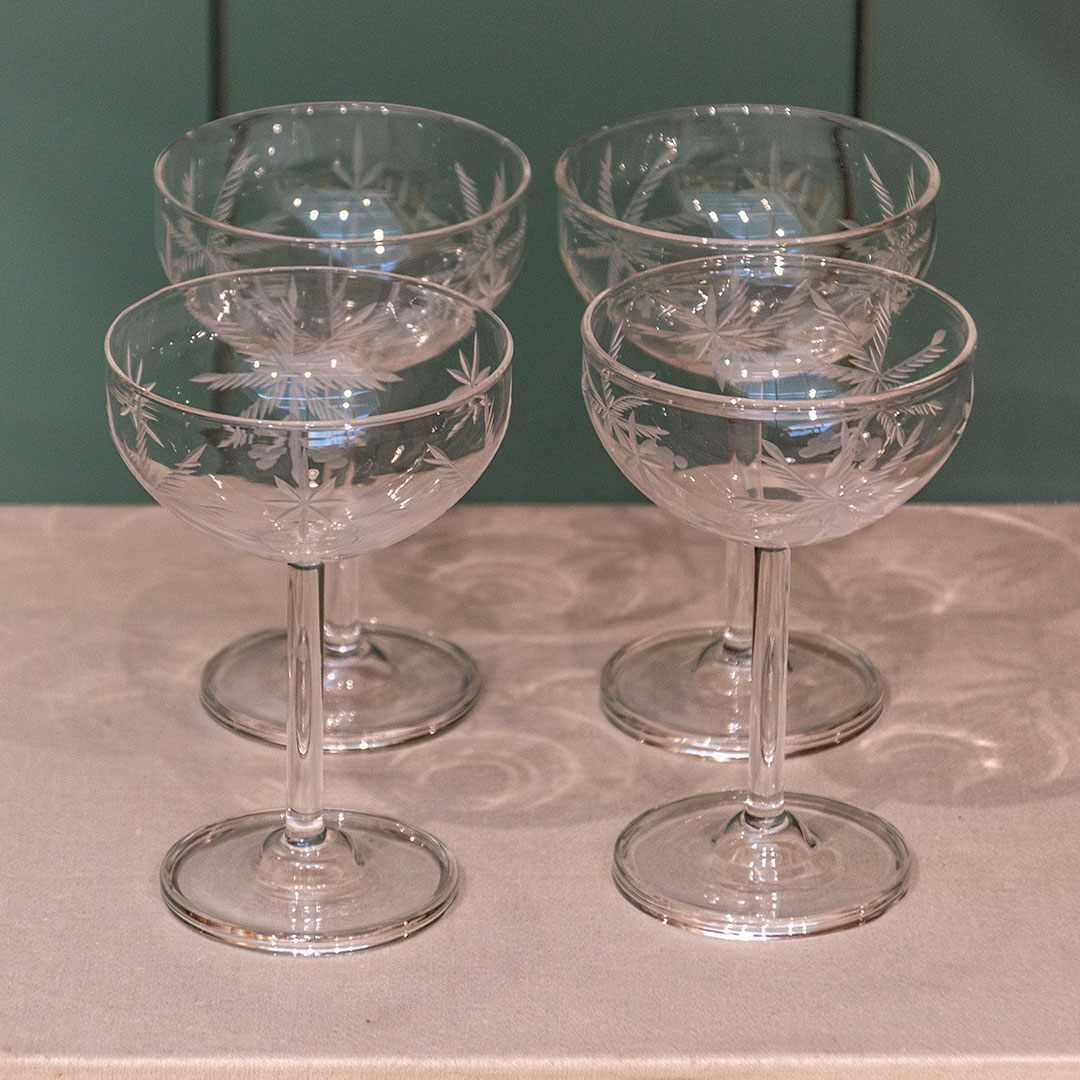 Since we first introduced our collections of glassware, we discovered borosilicate glass, a type of glass invented in 1880 by the German scientist Otto Schott, which is extremely thin, durable, and surprisingly heat resistant. Consequently, we were able to introduce an extremely fine line of hand-etched glassware.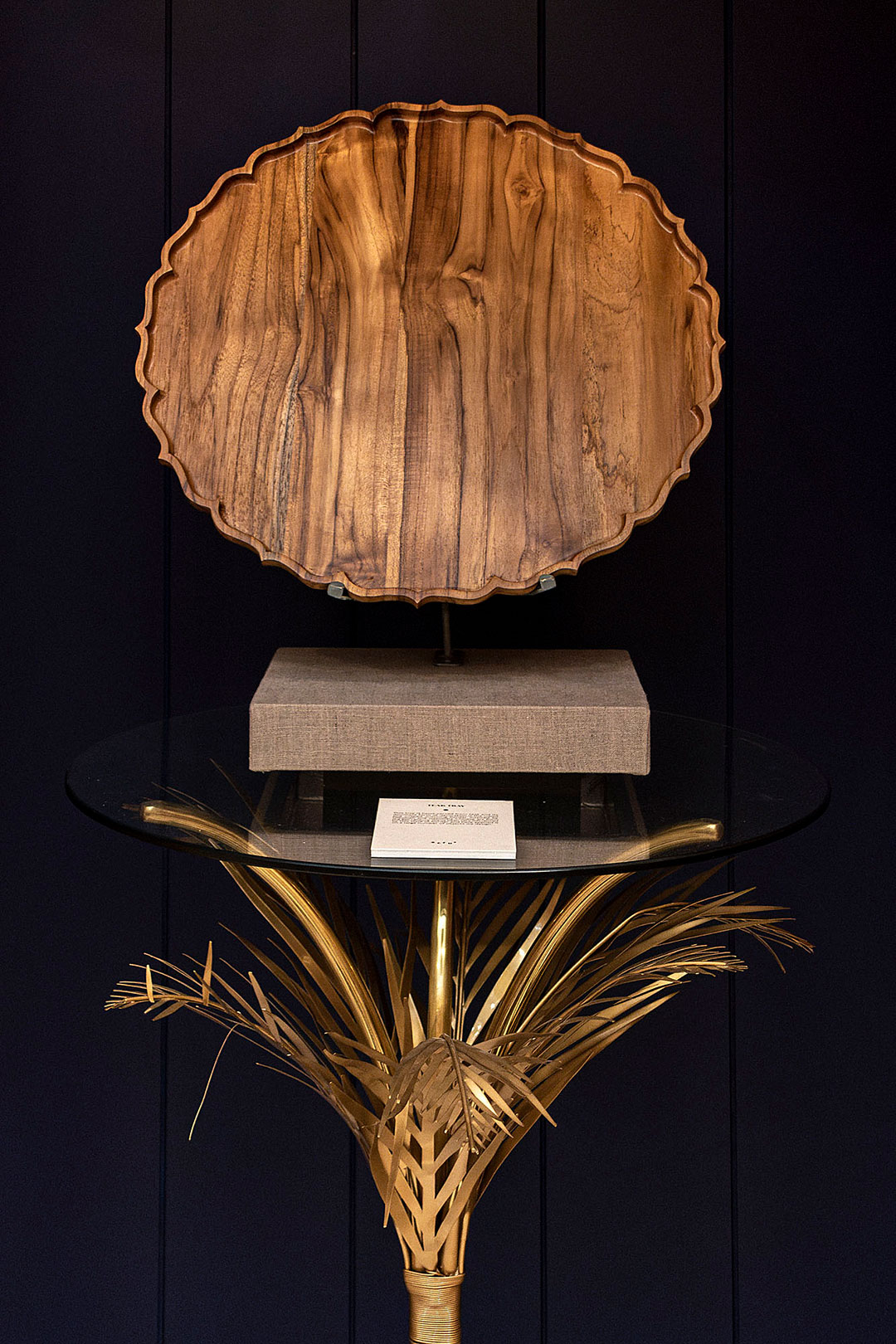 This tray is hand-carved from teak and its dominant form of decoration is the lobed and cusped outlining border inspired by Ottoman and ultimately Chinese art from the 8th century. We've been very influenced by this style of border and have applied it to a large number of objects we design.
Our first collection at ecru consisted primarily of clothing and linens in block-printed textiles.
Block-printing is a craft that is found in many parts of the world and is currently mastered in Jaipur. The renowned designer, Brigitte Singh, is one of the experts with whom we have collaborated and who has paved the way for other designers in our field. Under her guidance block printers have perfected their craft and their collections are examples of block printing at its very best. She has been both an inspiration and a mentor for us at ecru.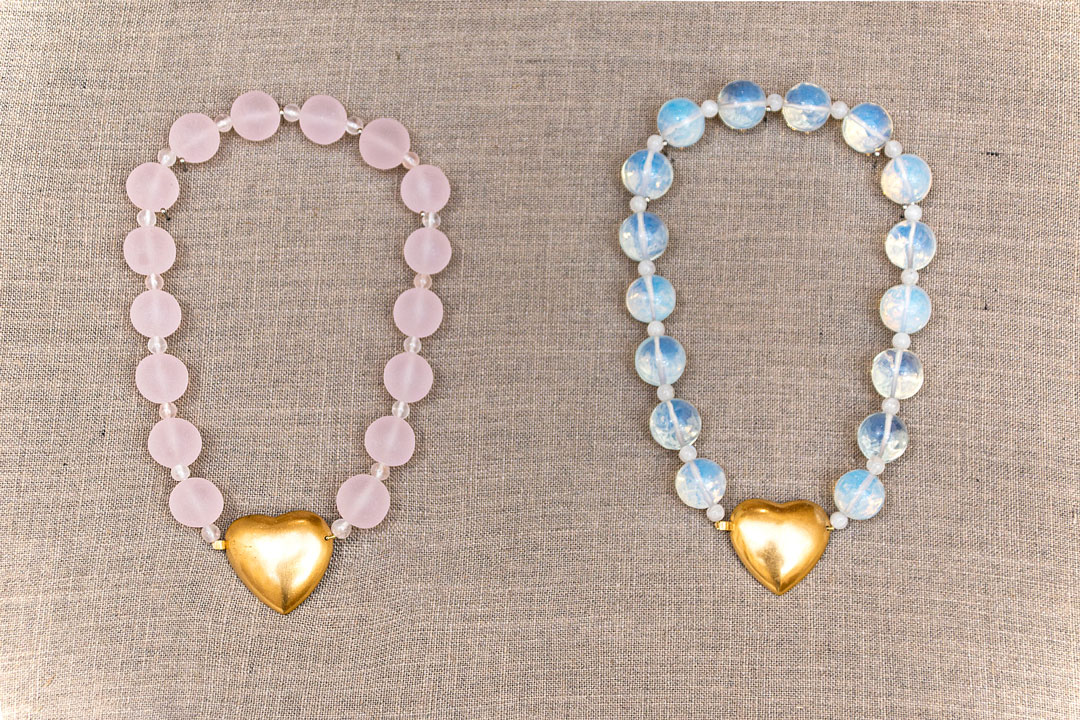 Jaipur is the center of jeweled arts in India. It is renowned for its outstanding gemstone carving techniques, intricate gemstone setting, and skillful work of its master goldsmiths.
Jaipur's "Johari bazaar" is home to some of the oldest gem dealer stores and prolific jewelry workshops.
Owing to their vicinity, we have been able to execute a wide range of accessories, including our "Heart Necklace" series which consists of a gold-plated brass heart-shaped clasp, strung with a variety of beads.
Shop Retro*Spect here.
Photography by Robert Lopez