Today we travel to Kuwait with our certified chef Hadeel.  She's making us the comfort food we grew up with at our grandmother's house, Yaresh.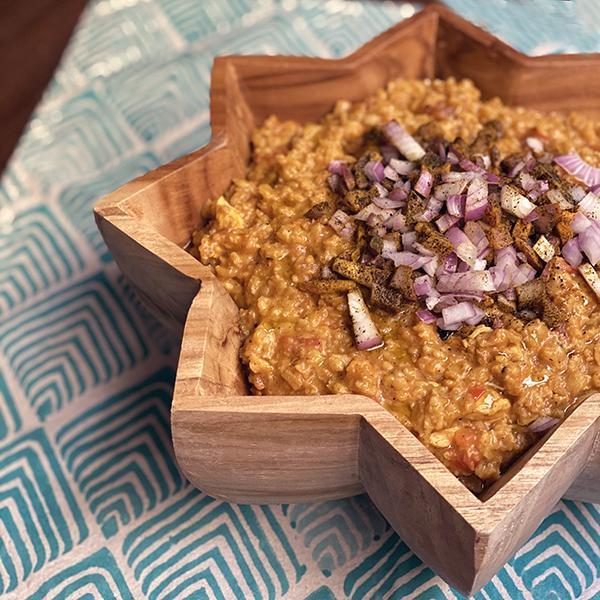 Ingredients:
2 chicken breasts (cut in cubes)
3 cups oat
5 cups water
2 onions finely chopped 
3 cloves of garlic (smashed)
4 tomatoes finely chopped 
1 packet tomato paste (4 TBSP)
1 lemon
Salt & pepper to taste
2 tbsp mixed spices (Machboos spice)
Machboos Spice:

1 teaspoon of ground cinnamon 
1 teaspoon of dried chili flakes 
1 teaspoon of ground cumin
1 teaspoon of ground cardamom 
1 teaspoon of ground coriander seeds 
1 teaspoon of ground cloves 
1 teaspoon of ginger powder 
1 teaspoon of ground turmeric 
1 tbsp cumin
1 tsp dried lime
1 tsp turmeric 
Olive oil
Hashew Ingredients (garnish): 
1 onion finely chopped 
1/2 tsp dried lime
1/2 tsp numeric 
Method:
Heat the oil in a saucepan and then add the onions, garlic and all the spices. Sauté for 5 minutes then add the chicken breast and keep sautéing until golden brown in color.
Add the tomato paste and mix for about 2 minutes then add the chopped tomatoes, let it cook for 10 minutes then add in the salt, pepper, and the water. Mix well and let it boil then reduce the heat and let it simmer for 30 minutes.
After 30 minutes check if the chicken is tender then add the oats. Keep mixing until you get a creamy texture for about 5 minutes. Add in the lemon juice and mix well. Taste and adjust the salt if needed.
Serve in a platter and garnish with the hashew. 
(Souq image courtesy of Dwan Kaoukji, and Yaresh image and recipe courtesy of Hadeel Al Tamimi)