We want to introduce you to some of the artisans with whom we have been working with for many years. Most of the artisans we work with are self-employed and work out of their own workshops and sometimes their homes. This is not always possible as some crafts are too expensive for an individual artisan to burden him or herself with, for example, block printing. Nevertheless, we try to work with independent artisans whenever we can. We are also learning as we grow. We are becoming much more aware of the water consumed and waste produced in the field of design, and although it is impossible to eradicate this issue completely we are doing what we can to tackle it, with the help and support of our team, friends, professionals, and artisans.
Block Printing with Shaivyya and her Team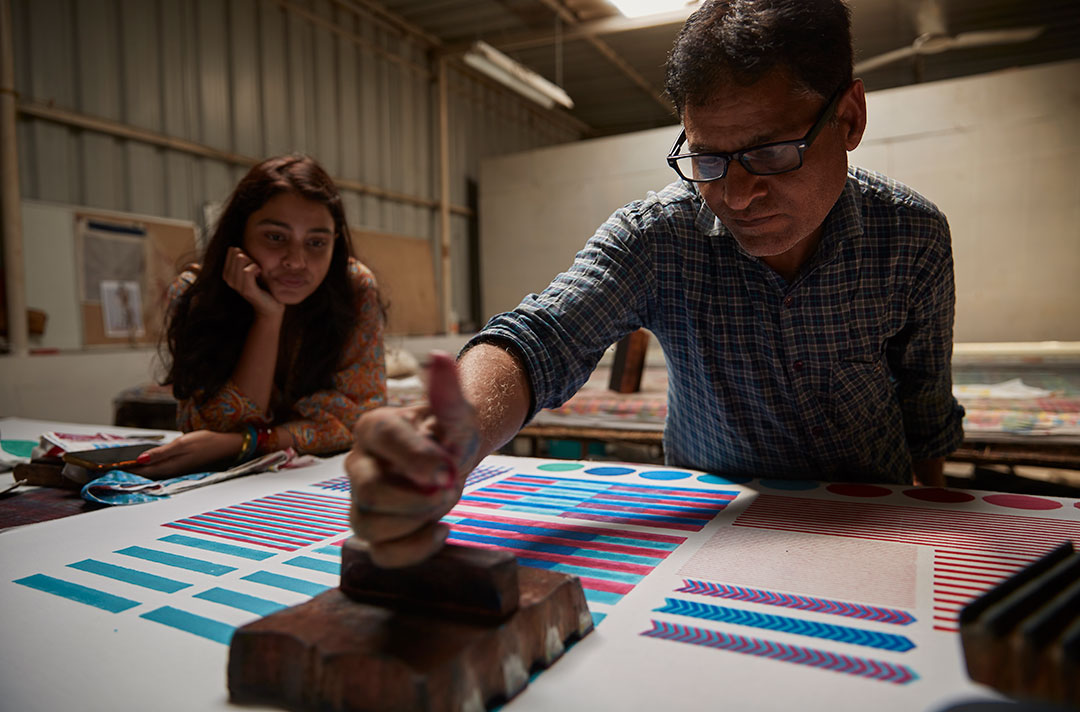 We have been block printing from the very start of ecru. It is a treatment of textile that we absolutely love.  We work with several printing houses, each having their own specialty. Here we introduce you to the printing we do with Shaivyya and her team.  The reason we love printing with Shaivyya is that both she and her team have no fear of experimenting! Together we overlay prints, mix colors, and print on uncommonly used textiles which always result in something interesting. In the field of printing, this is quite rare as printers are often wary of experimental results, and the precision needed when experimenting is often much more taxing.
Shaivyya has her own design practice, we initially met in order to collaborate on a collection, and we enjoyed this experience so much that we continued printing our ecru clothing collections with Shaivyya and her team. Her bold use of color continues to inspire us. 
We want to introduce you to Mahavir Chippa and Nirmal Chippa who are the two extremely talented printers at Shaivyya's practice. Their family name Chippa literally translates to 'printers', it is the name of their community. Their occupation is generational. 
Mahavir, the older gentleman, is the master printer. He is also the color master which means he makes the colors himself, this is no easy feat and is rarely the job of the printer. He is extremely patient and is an expert on sampling. Shaivyya and Mahavir have been creating bold, crazy designs together since 2015.
Nirmal, the younger printer, is an extremely quick learner. He loves challenging layouts, like our wave print series, which involve precise measurements. Nirmal used to work for large export houses and now loves the slow pace at Shaivyya's studio. He says he gets to use his analytical skills much more.
Shop Fabric
Semi-Precious Stone Carving with Om Ji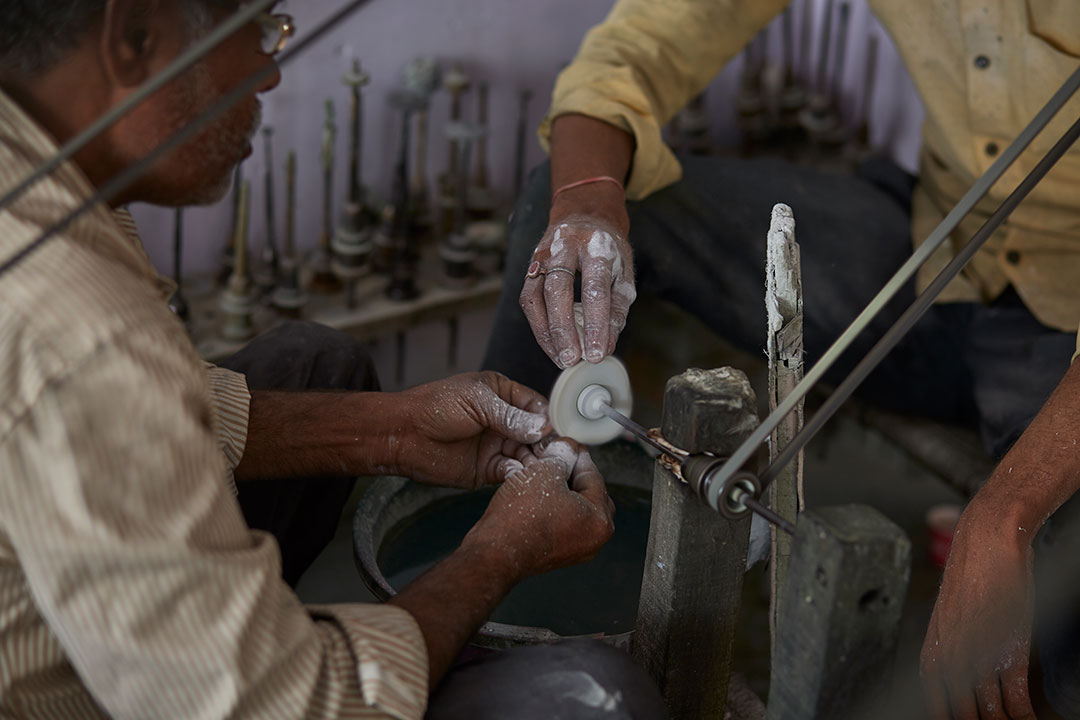 There are very few designers, specifically jewelers, who come to Jaipur without having tried out a thing or to with Om ji and his team of stone carvers.  One can confidently claim that some of the most talented carvers in the country work in this studio. The techniques used in this workshop are centuries old.  They are definitely of the more temperamental artisans with whom we work. We tread lightly when asking to alter or experiment with certain techniques and are quite often flat-out refused! The challenge is exciting and the result is always incredible.  We work on extremely limited pieces of our precious range, primarily due to the expense of the material but also of the temperament of the artisans! 
Shop Accessories
Sittaram ji the Brass Master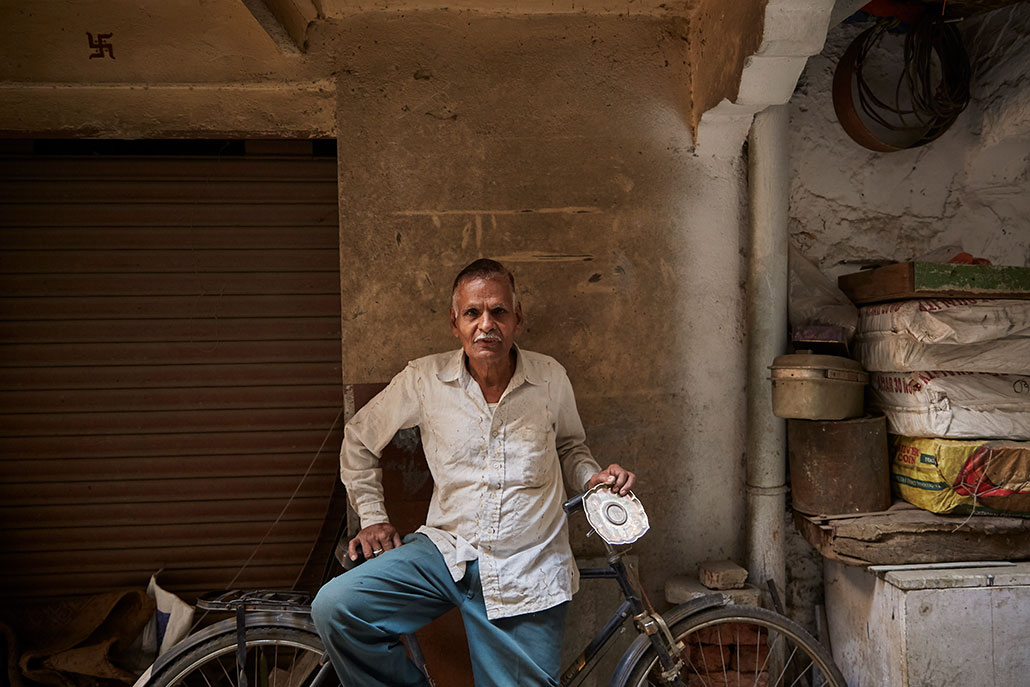 Sittaram Ji is one of Jaipur's big masters of brass making. Located in the metal colony of the old bazaar, his workshop has been a brass workshop for centuries. There are no ancient techniques of brass making that Sittaram Ji is unaware of and is completely dubious of any of the more modern techniques. One of the reasons we enjoy working with him so much.  He is self-employed and chooses his clients selectively. We have been working with him for almost ten years and have learned a lot in this time.  Due to the size of Sittaram Ji's workshop, which is really very small, we are often restricted to extremely limited quantities of brass items which often leads to disappointed clients who aren't able to purchase their candlesticks in time before they're fast sold out. We have tried hard to work around this but have taken a decision that if we are to continue to make such wonderfully handmade pieces we have to make this sacrifice.
Shop Brass
Ashish Ji The Marble Mason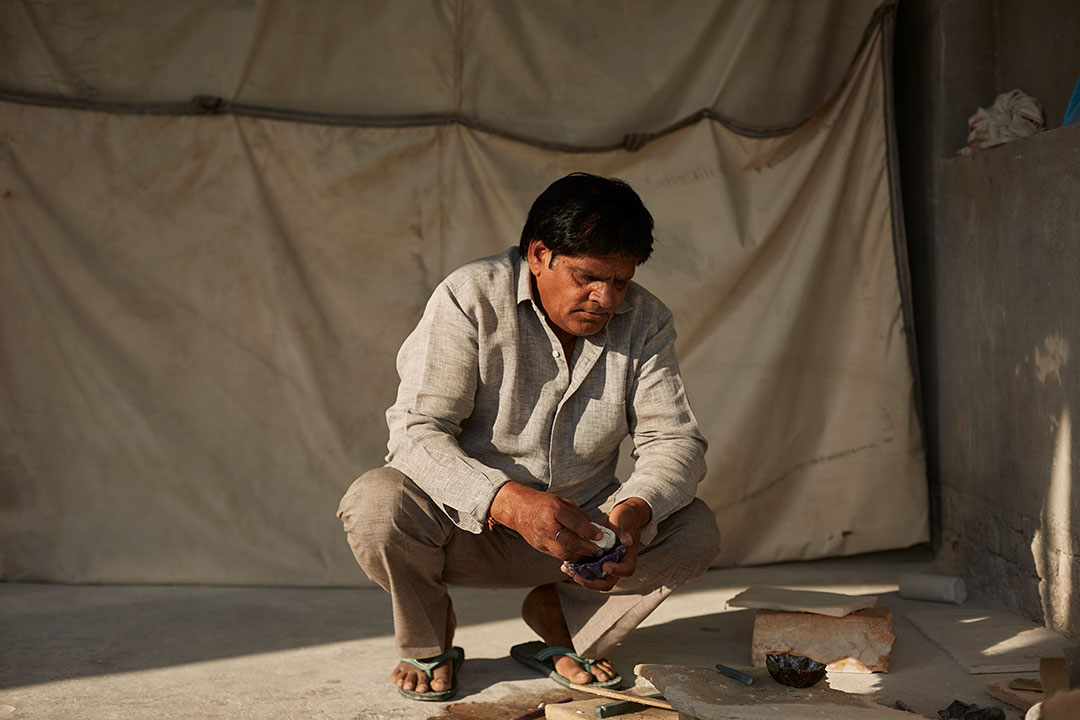 Ashish Ji is quite shy and was not so enthused by the idea of a portrait, but he agreed to the photos that we are happy to share with you.  Dotted all around Rajasthan you have marble masons who work from their independent workshops. You see them usually working outdoors engulfed in a cloud of white dust, with what looks like a thick layer of chalk covering them from head to toe. They make the most extraordinary marble carvings for temples and mosques, hotels, and homes. Marble is a luxury so abundant in India that at times we've even heard it referred to as a 'common' material. The country is home to some of the World's most important quarries that are being exploited and will probably one day cease to exist. This is not just in the case of India but is a global issue as well. To deal with this and still work with this noble material we are currently switching to working solely with waste materials from the quarries, taking from the example of our extremely inspiring and dear friends at 'Studio Raw Material', who create masterpieces working with discarded marble. 
Shop Marble
Nur Kaoukji
Photos courtesy of Amlanjyoti Bora.