I have a soft spot for Middle Eastern desert, and especially local Kuwaiti desserts. One of my favorite cakes is Girs Eqaili, a delicious fluffy milk saffron cake. When I first started working in ecru out of Noor's family house, they would always have it for dessert, and I was obsessed with it. They could see my excitement, so her family insisted on always having it when I was there for lunch. I finally got the courage to try to make it myself. I found a great recipe online by fellow enthusiast Evelyn of Culture Eatz. Making this cake will fill your house with the aromas of saffron and cardamon. You will love making it and eating it! Make sure you have a warm cup of chai haleeb, black tea, or coffee.
Hussah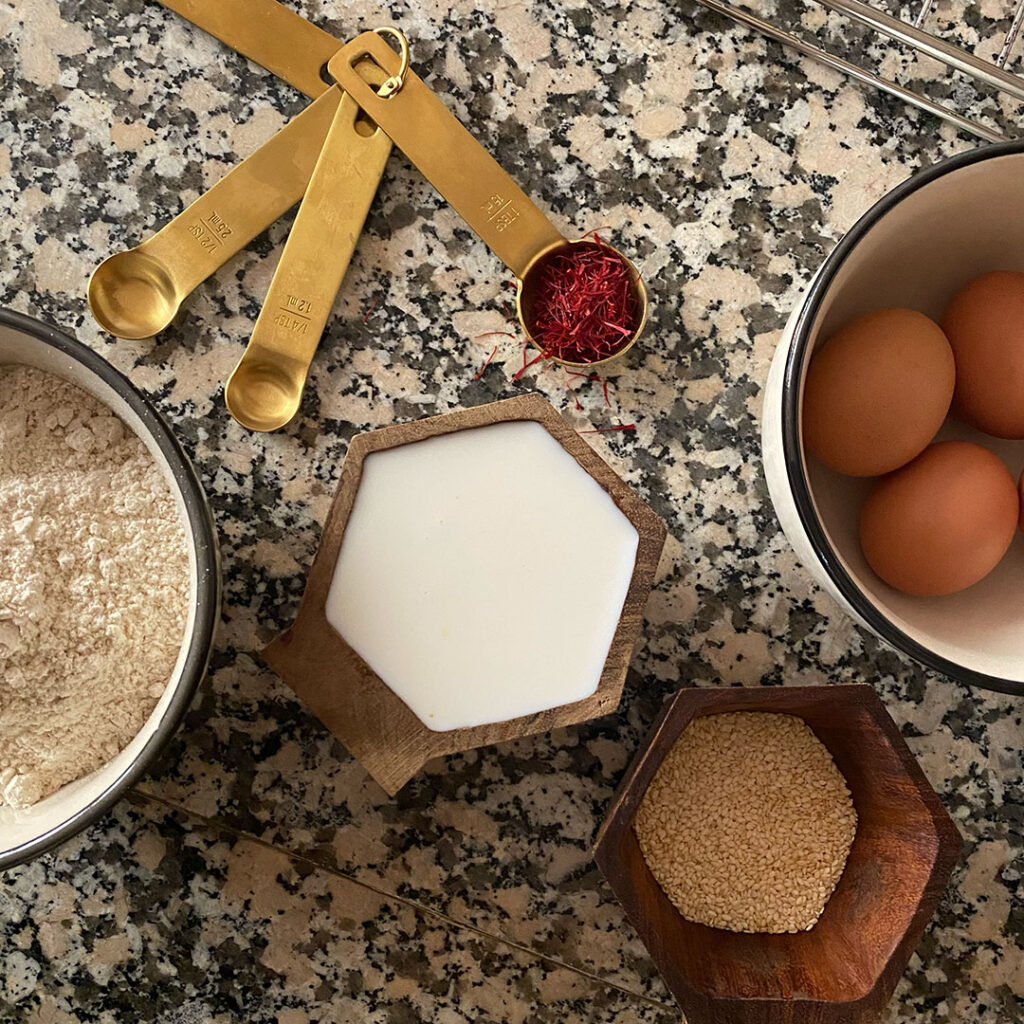 Ingredients
2 cups 230 g all-purpose flour
1 ½ tsp baking powder
¼ tsp salt
4 tbsp toasted sesames
½ tsp saffron
1 tbsp sugar
4 eggs
1 ½ cup 300 g fine sugar
½ cup 113 g butter, melted and cooled
1 cup 250 ml milk, room temperature
1 tsp cardamom
1 tsp rosewater
Instructions
Preheat oven to 180°C /350 °F /Gas mark 4.
Butter and flour the sides and bottom of a 12" bundt cake pan (or a 9" springform pan). Set aside.
In the mortar, crush the saffron threads with 1 tsp of sugar until it's a powder. Add 2 tablespoons milk to saffron powder. Leave to soak for at least 10 minutes.
In a large bowl, sift together the flour, baking powder, salt and two tablespoons sesames. Set aside.
In the bowl of the stand mixer fitted with the whisk attachment, whisk the eggs and sugar until light and thick and frothy. The mixture should triple in the volume. About 10 – 12 minutes on medium to high speed.
In a large measuring cup, combine the butter, milk, cardamom, rosewater and saffron mixture.
Using a large slotted metal spoon (or a wooden spoon), gently fold in the dry and wet ingredients into the eggs, beginning and ending with flour. Fold from top to bottom until combined.
Pour into the prepared cake pan. Sprinkle with the toasted sesames.
Bake for 35 to 40 minutes, or until a skewer inserted in the middle come out clean and the cake has shrink from the sides.
Cool completely on a wire rack before inverting.
Serve with tea or chai b haleeb (milk tea).
Store in an airtight container in the fridge for three days.
Recipe courtesy of Cultural Eatz