We all know Livio loves to cook and try new recipes. Reetika, our design intern decided to come over and teach him her family Lamb Dum Biryani recipe.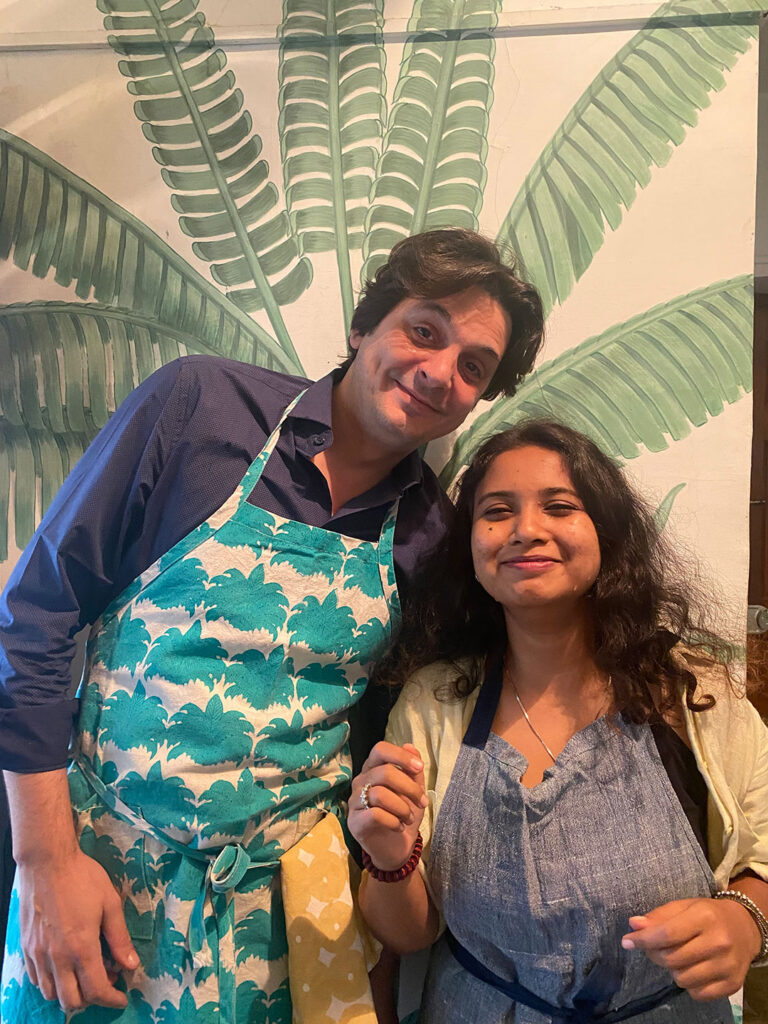 Ingredients for marination
Meat 1 kg
Salt 3 tbs
Turmeric powder 1 tbs
Ginger garlic paste 2tbs
Kashmiri red chili powder 2-3 tbs
Coriander seeds roughly crushed 3tbs
Caraway seeds roughly crushed 2tbs
Black peppercorns roughly crushed 1tbs
Green Cardamom 5
Black cardamom 3
Mace 1 piece
Cloves 6
Bay leaf 2
Cinnamon stick 2 inch
Garam masala powder 2tbs
Ghee heated 2tbs
Fried onions 1kg
Leftover oil from frying onions half cup
Green chili paste made from 4-5 chilies
Lemon juice 2 lemons
Raw papaya pulp 1 cup
Curd (Indian) 500g
Coconut milk 500g
Mint leaves 1 cup
Coriander leaves 1cup
Marination The Night Before:
Add all of the above ingredients step by step into a large bowl. Slightly crush all the spices when you do this to open up the flavors. Separately heat the ghee in a small pan and add it to the marination this will add a slight smokiness to the spices in it. Separately fry the onions in oil, when done frying add the onions and half the oil to the marination. The oil is full of flavor which we can not let go of!
The raw papaya pulp in this mixture acts as the tenderizer. Adding curd will fasten the process of marination and will add sourness to the dish.
After mixing all of it together thoroughly keep it covered in a glass or steel container overnight in the refrigerator.
On the following day, take the marination out from the refrigerator and let it come to room temperature. Once ready heat the pot to maximum heat and transfer the marination to the pot, let it cook for 30 mins, keep stirring with intervals of 10 mins so that it cooks thoroughly. When the mixture has reduced to have and the oil starts to show at the top you know it's ready
Rice
Long-grain Basmati Rice
Coriander leaves
Mint leaves
Cardamom 5-6
Cloves 5-6
Bay leaf 2
Black cardamom 2
Cinnamon stick 2inch
Salt 3 tbs
Add the above ingredients to the boiling water and add your rice after washing it thoroughly. Do not cook the rice fully, only until 80%, this could be 5 minutes or a tiny bit longer. Strain it and keep it aside in a flat open container so it slows the cooking process.
Layering
Final Ingredients:
Saffron
Milk 5 tbs
Onions chopped for frying 1 kg
Water and dough for sealing.
In a bowl take 10g of Saffron and add 5tbs of milk in it, keep it aside. Fry 1kg of onions and keep them aside.
Take a wide-based pan and add water to it, keep it on low heat. Transfer the pot with cooked marination on it, remove half of the marination and keep aside for layering. Our first layer of biriyani is half of the cooked marination, second layer is half of the rice, top it with some fried onions. Repeat it once more and top it with the milk infused with saffron and fried onions. Close the lid of the pot and seal the pot with the wheat dough.
Let it cook for 1hr at slow flame.
The biryani is ready!