Growing up I thought it was sacrilegious to have fish in Ramadan.  The reason for that was, whenever my mom would decide to make or order fish for futoor, (the meal you have to break your fast), I would always hear my dad saying in revolt "fish in Ramadan?!".   So, I stuck with his reasoning, and decided not to eat fish during the holy month and stick to my favorite tashreeb dish.  However, one day I wanted a change so when fish was made, I had a little.  It was as delicious just as it usually tastes on non-Ramadan days.  Apparently, people specifically my father, do not like to eat fish when they fast because it makes you thirsty when you fast.  But it is actually a very light meal to have when you break your fast.  My father might disapprove, but I highly recommend having fish in Ramadan, specifically maid (local Kuwait fish) if it is in season!
Here is one of my favorite fish curry recipes from Half Baked Harvest. It is so easy to make, and you can use any of the local white fishes that are offered in Kuwait.  If you do not live in the Arabian Gulf, you can use cod or anything similar.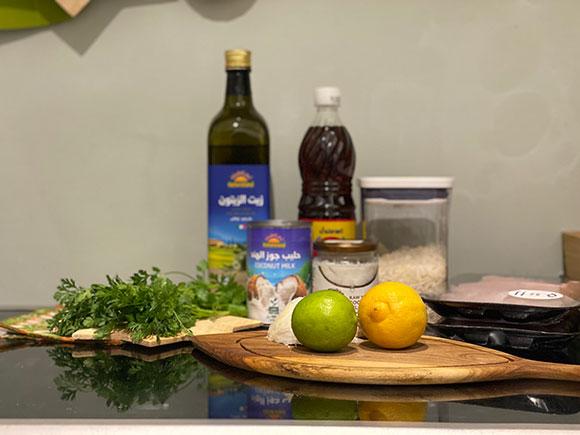 2 tablespoons coconut oil
½ Medium yellow or white onions, chopped
2 tablespoons red curry paste
2 tablespoons finely chopped fresh lemon grass. I couldn't find lemongrass, so I substituted it with cilantro stems and zest of a lemon. 
1 (1 inch) piece of fresh ginger, peeled and grated
1 can full-fat unsweetened coconut milk
2 tablespoons fish sauce
1 pound fresh or frozen white fish thawed if frozen.  I used the Kuwaiti local Hamour fish, which is similar to cod. Shrimp can be used as well.
Zest and juice of 1 lime
¼ cup fresh cilantro, chopped
3 cups cooked rice
½ cup toasted unsweetened flaked coconut, for garnish
Melt the coconut oil in a large skillet over high heat.  Add the onion and cook, stirring, until softened, about 5 minutes.  Stir in the curry  paste, lemongrass or cilantro stems and lemon zest, and ginger and cook until fragrant, about 1 minute more.
Stir in the coconut milk and fish sauce and bring the mixture to a boil.  Add the cod and reduce the heat to medium.  Cook until the fish is opaque and flakes easily, 5 to 8 minutes more. Remove the skillet from the heat and stir in the lime zest, lime juice, and cilantro. 
To serve, divide the rice amount four bowls and spoon the curry over the top.  Garnish with toasted coconut. 
Source: Adjusted Recipe Extra Saucy Coconut Fish Curry from Half Baked Harvest Super Simple cookbook by Tieghan Gerard